While in this challenge (100-to-Run), we have been trying to find ways of meeting and reaching Hispanics all around our city. The most important part of it is this; BEING INTENTIONAL! It's amazing how easy it is to make contacts with people when we pay attention to those around us and take advantage of the opportunities that we have to talk to them!
We have also tried to be creative in finding ways to meet people. Several weeks ago we went to the Fall Festival of one of Rome's Elementary Schools. We had some flyers advertising our first Hispanic Service (November 1), and we spoke to all of the Hispanics that we could find there. It was an awesome evening. We were able to get 11 phone numbers from different people that we talked to! We have been in constant contact with 10 of those 11 since, and we hope to incorporate them into the church as soon as possible.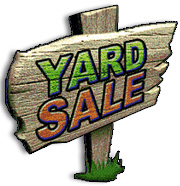 On Saturday (Oct. 31) we held a Yard Sale in benefit of the Hispanic Ministry. We announced it in the church, and many people donated items that we could sell. We held it in a church members house that lives in a highly populated Hispanic area. It went EXTREMELY well. Of course we were able to raise some money for the ministry, but even more importantly, we met dozens if not hundreds of Latinos and invited them to the church!
We understand that it takes SO MUCH MORE than just meeting people and inviting them, but we are trying to cultivate relationships with as many as possible.
Over the next several weeks we have several important activities planned (not including our now weekly Spanish Services); We will be doing a Hispanic movie night at the church within a couple of weeks, we also hope to start a small group in the house of one of the families that we met, etc. Keep us in your prayers as we continue towards what God has called us to do here!
Love,
Jason & Norah